Tim Harford finds it hard to talk about anything other than price discrimination and I'm beginning to understand why.
The basic idea is that, as a vendor, you want to maximise the amount of money you make. If you charge a lot for something, those able to afford to buy the item will pay for it but those who can't will not. If you lower your price to attract the more price sensitive shoppers, you inadvertently give a discount to people who would have willingly paid more.
What is one to do?!
Tesco and other retailers do it through such tricks as dressing up similar products in different ways (price sensitive customers get low prices by buying unattractively labelled "value" lines and less sensitive customers willingly hand over gobs of cash for similar products in nicer boxes with "finest" written on them).
Another of Harford's examples is Starbucks: they'll sell you a cheap "short" latte if you ask for it specifically (but they don't advertise it so that only the truly price sensitive - those willing to ask "do you have anything cheaper?" - benefit) and will willingly put syrrupy liquids in your cappuccino if you ask them to - for a high price.
I realised twice this weekend that www.thetrainline.com also does something similar (I'm probably late to this party...)
I will be spending New Year with some friends at a cottage we've hired in Ludlow. I tried to book my train tickets last night. The first price you see is the easy, no hassle one:
£51 for a standard class return
£117 for a first class return
But wait.....! Let's click on the "2 singles could be cheaper" link and see what happens...
If you're willing to sacrifice a little flexibility, look what happens: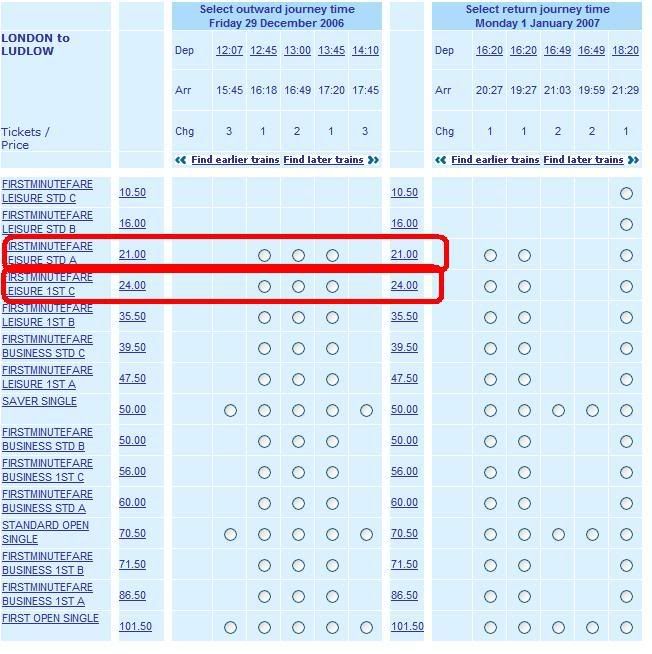 That's right.... not only are two singles cheaper for standard class (£42 vs £51), it's also cheaper to go first class (£48).
So I'll be travelling to Ludlow in First Class for less than the less price-sensitive would pay for a standard class ticket.
Excellent.