My esteemed colleague Ben Thompson remarked in the comments to
this posting
that my blog lacks a visual aspect.
I think he makes a fair point.
Therefore, this article is brought to you through the magic of PowerPoint.
I am sure many of my readers often ask themselves: "Where should I stand on platform 9 of Bank station to ensure I will leave the train as close as possible to the exit at Westferry station"? Those readers should fret no longer for the answer is this:
Assuming you are entering platform 9 from the Bank side (rather than the end nearest Monument station), you should walk along the platform as far as the overhead matrix display. At this point you will have gone too far. Turn around. You will see a shiny line on the ground running from near the information desk to the platform edge. This is the Marker of Magnificence. Stand on it and use the door that appears immediately in front of you when the train arrives.
Walk to the opposite set of doors and occupy the corner space (so that you don't block passengers getting on and off at Limehouse).
Thus: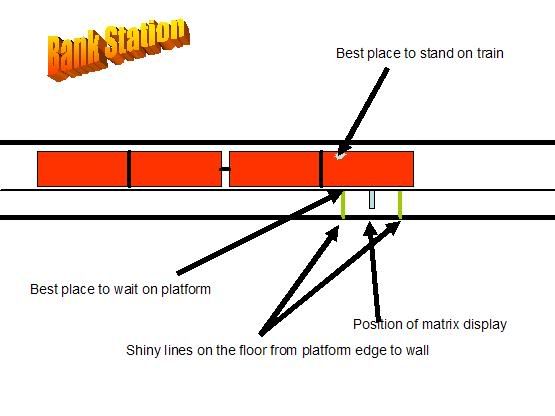 Upon arrival at Westferry, use the door opener to your side, exit the train and scurry straight on to beat the other passengers who are heading to the exit that you have just arrived at. You should arrive there before everyone else. Ha! You win again.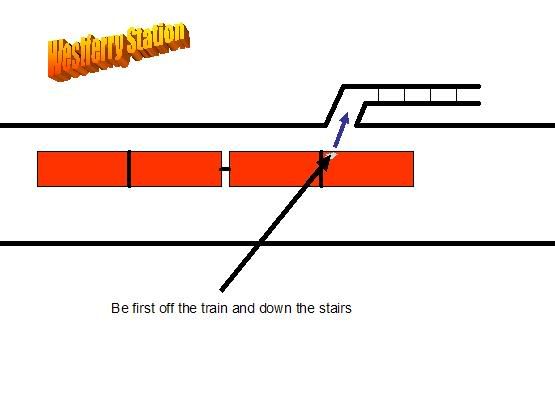 Being the first passenger off the train, you have no slow-coaches ahead of you and so can descend the staircase at a pace that suits you. Truly you are a premier passenger.
Ben: Happy now?