I've just arrived in Las Vegas for the IBM
WebSphere Integration Technical Forum
. I will be presenting on Wednesday. The topic of my talk is: "WebSphere Business Integration Server - Compare and Contrast the Runtime Stack, Lecture - Intermediate". Snappy, eh?
I originally wanted to call it something more frivolous but lost courage at the last second. Shame, really... I might blog sometime on the email blizzard I triggered when some executives saw my original title :-)
The idea of the conference is to get customers of IBM who use WebSphere Integration Software together for an in-depth technical conference (there should be little marketing stuff here this week). That means Caesar's Palace is going to be riddled with people talking about WebSphere MQ, Interchange Server, Workflow and more. I extend my apologies in advance to people who might be in Vegas to *escape* from work!
I came over with Virgin. They do a direct flight from London (Gatwick, sadly - but you can't have everything). A direct flight is SO good.... I've been out here twice before for conferences and had to change - horrible, horrible, horrible!
IBM policy is to fly us economy - with exceptions for business class in certain circumstances, at one's manager's discretion. Attending a customer conference doesn't seem to merit an exception unfortunately so I was expecting the hell of a 10 hour flight in Economy. Luckily, there were no flights with space on Economy so I flew upstairs on VS043 in Premium Economy.... not quite
Upper Class
but still pretty nice. It will be regular eceonomy on the way back though :-(
I've stayed in the MGM and Bally's but this is my first time at Caesar's Palace. Overall, the room is merely OK (phone is temperamental, no wireless and they hid the ethernet cable
behind
the TV) but the bathroom is a sight to behold:
Double sink:
Jacuzzi - with a semi-obscured window overlooking the room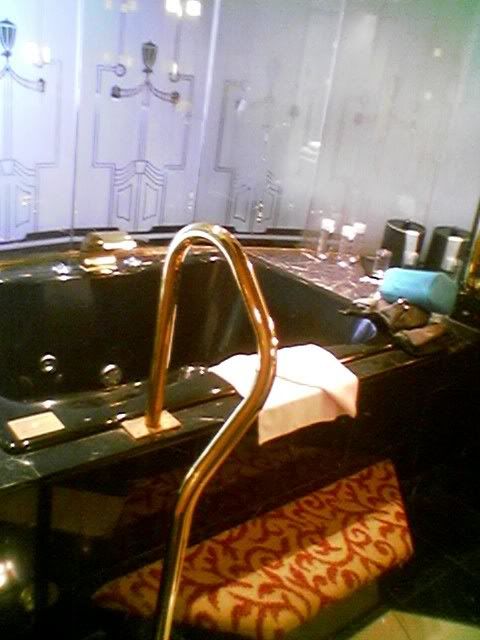 My photos don't really do it justice but I've seen a
lot
of hotels over the last few years and I'll remember this bathroom for some time